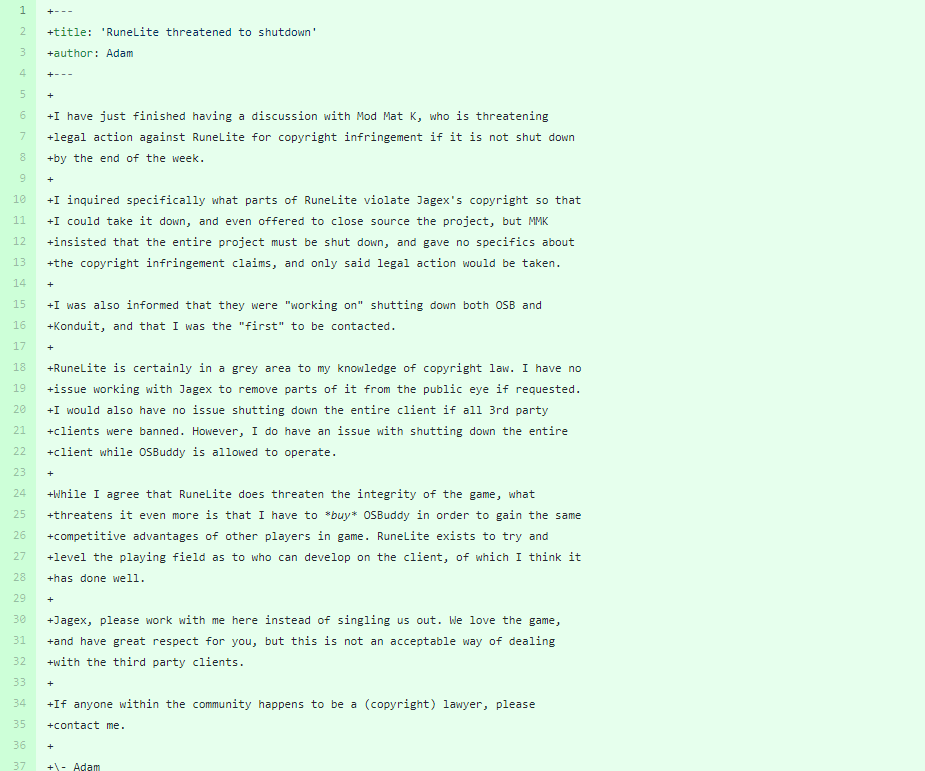 What is runelite?
Runelite is an open-source client that started to gain popularity 3-4 months ago, when they were the first client to release the raid scouting plugin, which made scouting really easy. In total there has been 116 contributors to the client on github, one of the most popular developers is Woox, who has also been streaming while hes been developing features for the client. It started to get extremely popular in the last month, as alot of useful plugins were released and alot of people decided to switch over to Runelite from OSBuddy. Today about 25% of players are using Runelite.
Is Jagex really gonna shut down all 3rd party clients?
That would pretty much mean that were forced to start playing on a client that is 11 years old. Sounds really unlikely. Also OSBuddy owners are extremely confident that they will not be shut down.
Why did the Jagex make that statement on the picture above?
They probably just lied (or claim that it will take years to shut down OSBuddy for example) so people wouldn't be so upset with Runelite disappearing.
Whats going on then?
This entire situation is really wierd. Are they really gonna force us to play on that garbage client? Even EOC made more sense than that. OSRS barely has any staff so expecting them to start upgrading client sounds like an awful idea. Means all the time from in game dev time goes to the client and we already have 3 solid clients to use.
The timing of this situation is extremely wierd, just as OSBuddy gets a real competetor after years of leeching money off the game, their competetor gets threatened with lawsuit? As I mentioned before, OSBuddy owners were extremely confident that they will not be shut down. Meanwhile Konduit owners said that they have no idea whats going on, would had expected the same reaction from OSBuddy owners, unless they already know whats going on.
It can't be the features of the Runelite, as they have taken down some features Jagex has asked to remove already.
In my opinion it looks like Jagex really wants players to use OSBuddy for some reason, but I might be wearing an tin foil hat right now.
Hopefully we get more answers from the Q&A that will take place today.
Discuss.
EDIT
Jagex released a newspost about the issue. Right now they are only going after Runelite, mainly because since Runelite is open-source Jagex feels like it's easy to create botting scripts. Their excuse doesn't make much sense though, as Runelite already offered going closed source.
Runelite released a newspost saying that they will NOT shut down as long as any other 3rd party client is running. Unless they get taken down by legal issues before that happens.